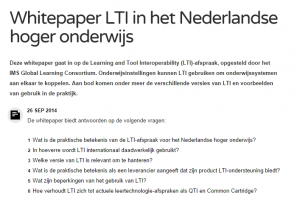 Vorig jaar heb ik in opdracht van het SURF-programma Toetsing en Toetsgestuurd Leren een whitepaper geschreven over het gebruik van QTI in het Nederlandse hoger onderwijs. Dit jaar is daar, op verzoek van hetzelfde programma, een whitepaper over de Learning Tools Interoperability aan toegevoegd.
Het whitepaper gaat in op de volgende vragen:
Wat is de praktische betekenis van de LTI-afspraak voor het Nederlandse hoger onderwijs?
In hoeverre wordt LTI internationaal daadwerkelijk gebruikt?
Welke versie van LTI is relevant om te hanteren?
Wat is de praktische betekenis als een leverancier aangeeft dat zijn product LTI-ondersteuning biedt?
Wat zijn beperkingen van het gebruik van LTI?
Hoe verhoudt LTI zich tot actuele leertechnologie-afspraken als QTI en Common Cartridge?
Beide whitepapers sluiten op elkaar aan, maar kunt je ze ook los van elkaar lezen. Zo wordt in beide whitepapers kort stil gestaan bij het proces van ontwikkelen van 'standaarden' (en waarom dat woord hier tussen aanhalingstekens staat), legt het QTI whitepaper ook kort uit wat LTI is en omgekeerd. Ze richten zich beiden ook nadrukkelijk op de niet-techneut, d.w.z. managers, ICTO-medewerkers, docenten die zich met toetsing bezig houden. Heel technische zaken als "hoe bouw ik ondersteuning in in mijn leeromgeving?" of "waarom werkt koppeling X niet met systeem Y"  komen niet aan bod. Ik hoor ook graag in hoeverre dat gelukt is, of dat er toch nog prangende vragen open blijven. Laat het me weten hieronder in de reacties of mail me even.
Volgende week, op 7 oktober verzorg ik een gratis online webinar over dit onderwerp. Vragen die ik voor die tijd binnen krijg, kan ik ook dan aan bod laten komen.