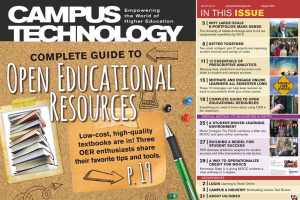 In het augustus nummer van het gratis online tijdschrift Campus Technology is dit keer een uitgebreide bijdrage te vinden over Open Educational Resources (OER).
Aan bod komen onder meer mythes met betrekking tot OER, tips voor gebruik, redenen om OER te gebruiken, sites voor OER gebruikers, ideeën om OER te verspreiden, en OER formaten en licenties.
Het is zeker geen uitputtende bijdrage, eigenlijk meer een compact overzicht om te bewaren.
En als je dan toch aan het lezen bent: een stukje verderop staat een eveneens interessant artikel over (een poging tot) het operationaliseren van credits die je voor een MOOC kunt krijgen, inclusief een poging tot een break-even of financiële winstanalyse.
Tip: vind je het online formaat niet handig om te bewaren, dan kun je de bijdrages ook naar PDF printen en zo lokaal opslaan of in je reference manager bewaren!