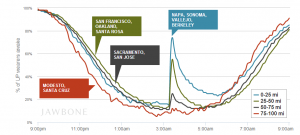 OK, ok, dat was wellicht een beetje té flauwe filmverwijzing in de titel, maar toen ik in de reacties bij het bericht op Engadget dingen las als "Creepy? Hell yes!" moest ik toch wel even glimlachen.
Goed, iets meer uitleg: gisterenochtend vond er in Noord-Californië een stevige aardbeving plaats. Serieus genoeg. Maar bij Jawbone, makers van o.a. de Jawbone Up dachten ze: "hé daar kunnen wij wat mee!". "We kunnen laten zien wat de kracht van ons systeem is!".
Hoe zul je denken? Nou, de Up geeft namelijk (o.a.) automatisch je slaap-info door aan Jawbone. En nou heb ik geen Up, dus ik heb geen idee wat er precies in de algemene voorwaarden staat, maar er zal ongetwijfeld iets in staan of het door Jawbone mogen gebruiken van die data voor statistische doeleinden of zo.
Dat hoop ik tenminste voor ze, want dat hebben ze namelijk wel gedaan. Ze hebben bovenstaande grafiek gemaakt (op hun site is hij interactief) waarmee ze laten zien dat mensen (met een UP) wakker worden naar aanleiding van de aardbeving. De lijntjes geven de afstand tot het episch centrum aan. Logisch (en duidelijk zichtbaar) is dat mensen van de mensen die er dichter bij wonen (die voelen de schok ook harder) een groter percentage wakker wordt.
Eigenlijk is hier privacytechnisch helemaal niets aan de hand. Er zijn geen individuele gebruikers te herleiden uit de grafieken. Ik denk dat ook in Nederland geen enkele privacywaakhond hier over zou vallen (toch?). Maar hoeveel gebruikers van de Up zouden zich (tot vandaag) niet gerealiseerd hebben dat Jawbone "zomaar" toegang heeft tot *hun* data?
En is het eigenlijk wel *hun* data of hebben ze het gebruiksrecht van die data afgestaan aan (o.a.) Jawbone?
Ik weet wel dat het voor mij nog wel even een reden zou zijn om de kleine lettertjes er bij te pakken als ik een Up had. Niet dat het voldoende reden zou zijn om (principieel) geen Up te gebruiken, maar ik zou wel even willen weten wat Jawbone nou ook al weer nog meer met *mijn* data zou mogen.