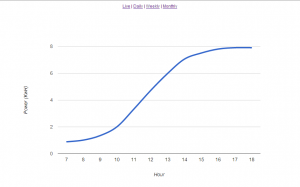 Van tijd tot tijd krijg ik mailtjes binnen over het gebruik van de Raspberry Pi voor het uitlezen van de opbrengst van mijn zonnepanelen. Helaas heb ik daar alles wat ik daarover weet over opgeschreven en zeker als het gaat om de combinatie met andere omvormers, of meerdere omvormers, dan heb ik geen enkele mogelijkheid om dat uit te zoeken of uit te proberen.
Afgelopen week kreeg ik een vraag waar ik afgelopen weekend toch nog maar even wat tijd in gestoken heb. Tot nu toe krijg ik elke avond om 21:00 uur een mail met daarin een rapport van de opbrengst van de afgelopen dag. Ik kreeg de vraag of het ook mogelijk was om die informatie direct live in de browser te zien.
Dat kan. Maar het script dat het nu doet is traag en daarom niet geschikt voor online gebruik. Er zijn opties om het sneller te doen. Je gebruikt daarbij de data die in de lokale MySQL database wordt opgeslagen. Als je de setup al uitgevoerd hebt voor het mailtje, dan heb je PHP al draaien. En als het goed is waarschijnlijk ook Apache als webserver.
Maar op de webserver een nieuwe map aan (bijvoorbeeld "report") en plaats daar in de twee PHP-bestanden die je hier kunt vinden. Pas in data.php het wachtwoord voor jouw MySQL-server aan en roep dan de index.php pagina op in je browser. Dat wordt dan waarschijnlijk zoiets als http://192.168.0.8/report/ (je hoeft "index.php" niet in te vullen).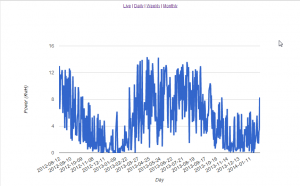 Ik heb het script simpel gehouden, voel je vrij om uit te breiden. Je kunt een overzicht opvragen van de opbrengst van vandaag, per dag voor de hele looptijd, per week voor de hele looptijd of per maand. Via &from=2014-01-01 kun je aangeven dat je alleen de data van na 1 januari 2014 wilt zien (je kunt die ondergrens uiteraard aanpassen zolang je het format yyyy-mm-dd aanhoudt).
Via &to=2013-12-31 kun je ook een bovengrens instellen.
Zoals gezegd, tamelijk basic, echt een 0.1 versie. Als je je geroepen voelt om er op door te werken, dan hoor ik het graag!