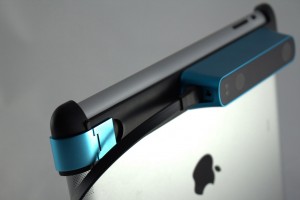 Als ik de Structure Sensor van Occipital een mooi proof of concept noem, dan doe ik ze daar vast onrecht mee aan. Maar ik zal uitleggen waarom.
Wat is het: het is een lens die je op je iPad kunt klikken en waarmee je 3D scans/foto's kunt maken met behulp van je iPad. Hieronder (even doorklikken naar volledig bericht) zie je een filmpje met een demonstratie van de lens werkt. Het ziet er super simpel uit en het resultaat is best indrukwekkend.
Het voorbeeld in het filmpje hinkt overigens een beetje op twee gedachten. Enerzijds laat het zien dat je geavanceerde 3D panorama foto's kunt maken. Anderzijds wordt het 3D scannen getoond. Maar dan is de vraag een beetje wat het doel van de scan is. Gewoon als leukigheid? Of omdat 3D nou eenmaal de toekomst is? Bij Star Trek hadden/hebben ze die immers ook!
Of wil je een 3D scan maken die je dan ook weer op een 3D printer kunt printen?

In dat laatste geval kan ik me voorstellen dat je wat meer vragen/eisen hebt met betrekking tot resolutie of de mogelijkheid om de scan te repareren achteraf zodat hij echt 'waterdicht' is.

Er staan nog een paar andere voorbeelden op de website, maar het lijkt me ook hier weer dat het nog een beetje zoeken is naar de verschillende toepassingen. Dat is niet erg. Maar deels ook daarom noem ik het een proof of concept. Mensen kunnen nu er ook mee aan de slag.
Een ander 'probleem' is dat het nu weer een extra apparaat boven op je iPad is. Zoals je aan de foto kunt zien, is het best een grote opzetlens. En hou jezelf maar niet voor de gek. Foto's maken met een iPad is al dom, maar zo'n extra ding meenemen op vakantie ga je echt niet doen. Tenzij je nu ook al met een grote digitale SLR camera en verschillende lenzen rond loopt.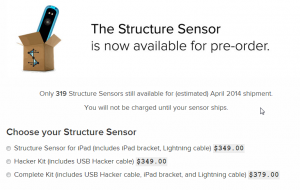 Maar ja, ook dat is geen probleem. De makers zijn van plan er in eerste instantie 750 te maken. Daar waren er op dit moment in de voorverkoop nog 319 van over (er zijn er 3 besteld in de tijd die ik nodig had om dit bericht te typen), dus ze zijn zo uitverkocht. Dan is het alleen nog even wachten tot april 2014. Kosten voor de complete kit: $379,-
(getipt door Fresh Gadgets)