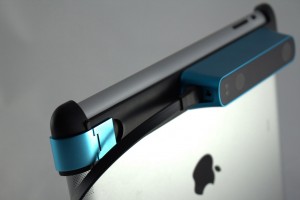 Als ik de Structure Sensor van Occipital een mooi proof of concept noem, dan doe ik ze daar vast onrecht mee aan. Maar ik zal uitleggen waarom.
Wat is het: het is een lens die je op je iPad kunt klikken en waarmee je 3D scans/foto's kunt maken met behulp van je iPad. Hieronder (even doorklikken naar volledig bericht) zie je een filmpje met een demonstratie van de lens werkt. Het ziet er super simpel uit en het resultaat is best indrukwekkend.
Het voorbeeld in het filmpje hinkt overigens een beetje op twee gedachten. Enerzijds laat het zien dat je geavanceerde 3D panorama foto's kunt maken. Anderzijds wordt het 3D scannen getoond. Maar dan is de vraag een beetje wat het doel van de scan is. Gewoon als leukigheid? Of omdat 3D nou eenmaal de toekomst is? Bij Star Trek hadden/hebben ze die immers ook!
Of wil je een 3D scan maken die je dan ook weer op een 3D printer kunt printen?
Lees verder….