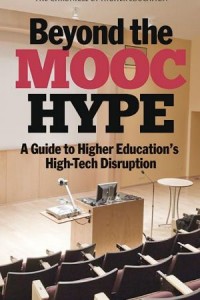 Via de altijd interessante Scoop.it feed van Robert Schuwer (die kun je ook via RSS volgen!) kwam ik gisteren bij deze blogpost op de Chronicle of Higher Education. Hij ging over het book getiteld "Beyond the MOOC Hype: A Guide to Higher Education's High-Tech Disruption". Het boek is, zover ik kon achterhalen, alleen als eBook voor Kindle beschikbaar via Amazon, maar goed, voor $4,99 ben ik wel bereid om zo'n boek aan te schaffen ook als het niet in ePUB formaat is.
Het is geen dik boek, Amazon schat het in op 92 pagina's, ik las het in ieder geval in een zaterdagmiddag in zijn geheel uit.
Voor de kenners / volgers / ingewijden op het gebied van MOOCs zal het boek niet heel erg veel nieuws bevatten. Het is echter prettig om de geschiedenis van MOOCs, de verschillende bedrijfsmodellen die onderzocht worden, de mogelijke gevolgen van MOOCs op reguliere onderwijsinstellingen bij elkaar en achter elkaar te lezen. Aardig is ook dat de auteur heel wat interviews afgenomen heeft om de gaten tussen die verhalen op te vullen. Daarbij laat hij zeker ook critici van MOOCs aan het woord, maar daarnaast komen natuurlijk ook mensen als Sebastian Thrun, Andrew Ng, Dave Cormier, Bryan Alexander, George Siemens en L.C. Winner "aan het woord". Ik zet dat even tussen haakjes, want soms citeert de auteur ook uit interviews die anderen afgenomen hebben (dus niet specifiek voor het boek).
Duidelijk wordt dat de auteur zelf veel hands-on ervaring heeft met het volgen van MOOCs, hij verwijst ook regelmatig naar het proefondervindelijk uitzoeken van hoe e.e.a. werkt.
Al met al een gemakkelijk leesbaar boek. En een aanrader voor wie snel een overzicht wil krijgen of zich snel bij wil lezen op MOOC gebied.