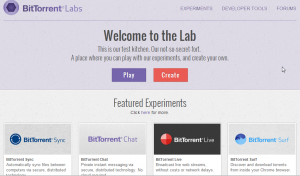 Vandaag werd bekend dat BitTorrent nóg een nieuw experiment aan haar BitTorrent Labs heeft toegevoegd: BitTorrent Chat. Een chatdienst die geen (centrale) servers gebruikt, maar via het BitTorrent protocol werkt. Het experiment komt naast Sync (Dropbox vervanger), Live (Livestreaming) en Surf (Ok, dit is een meer 'tradioneel' BitTorrent experiment).
In alle gevallen staat versleuteling en onafhankelijk van centrale servers centraal. Natuurlijk is er ook hier de vraag of we dan met z'n allen niet weer afhankelijk worden van één bedrijf? Of komen er straks alternatieve (open source) clients die ook dit protocol ondersteunen voor deze functionaliteiten? De tijd zal het leren.
p.s. Hoewel het natuurlijk gewoon niet hoort dat we aan alle kanten in de gaten gehouden worden, kan ik me er voor dagelijks gebruik ook weer niet té veel zorgen over maken. Zo interessant ben ik namelijk niet.