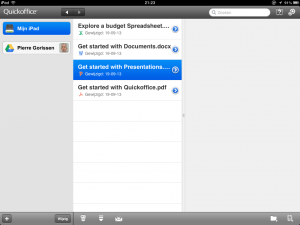 Eerlijk is eerlijk: het aantal keer dat ik in een maand een Office-document op mijn iPad probeer te bewerken, kan ik op de vingers van één hand tellen. Openen / lezen wellicht wel nog (vooral als het document in mail meegestuurd is), maar bewerken doe ik toch meestal alleen op mijn laptop of desktop.
Dus heel erg warm wordt ik niet van het gegeven dat Quickoffice, onlangs gekocht door Google, nu niet alleen voor Google Apps gebruikers gratis is, maar voor iedereen. Op zowel iOS als Android.
Dus als je een app nodig hebt om Office bestanden te bewerken op je iOS of Android toestel, dan hoef je daar nu geen euro meer voor uit te geven.
De reacties op Engadget zijn ook niet heel erg positief. Iemand die er wél tevreden over is?