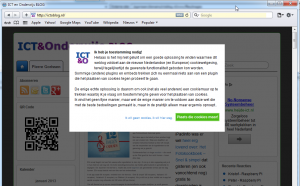 Ik heb er een hekel aan om iets te doen waar ik eigenlijk een hekel aan heb. Maar na de nodige tests kom ik tot de conclusie dat er nog geen afdoende (kant en klare) oplossing is voor WordPress om er voor te zorgen dat je aan de nieuwe cookiewetgeving voldoet. Er zijn een aantal plugins die om toestemming vragen en die dan afhankelijk van die toestemming wel of geen Google Analytics code toevoegen, maar er zijn plugins die gegarandeerd *alle* cookies tegen houden als een gebruiker er voor kiest dat hij/zij dat nu eenmaal niet wil. Embedded content trekt zich sowieso helemaal niets aan van instellingen die ik in WordPress doe.
En daarom heb ik gekozen voor de meest vervelende, maar op termijn ook meest eenvoudige oplossing: een cookiemuur.
Je krijgt nu bij bezoek aan de site eenmalig de vraag of je het gebruik van cookies toe wilt staan. Zo ja, dan wordt je daar daarna niet meer over lastig gevallen totdat je je cookies verwijdert of als je een andere computer/browser gebruikt waarmee die toestemming nog niet gegeven is. Vervelend, ja, maar zoals gezegd, is het de enige afdoende oplossing die ik kon vinden en bedenken.
Ik maak gebruik van de cookiewarning plugin. Het goed werkend krijgen daarvan was overigens toch nog wel een beetje werk. De popup die je te zien krijgt, werkte namelijk standaard niet goed op een mobiel apparaat. Daar kon je dan niet naar beneden scrollen om op de knop te klikken waarmee je toestemming geeft.
Lees verder….