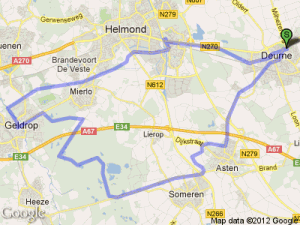 Je kunt je afvragen of dit bericht wel hier hoort en niet op Activegeek.nl aangezien het voornamelijk betrekking heeft op mijn actievere bezigheden, maar er zitten voldoende aspecten aan om het ook hier te plaatsen. Waar gaat het over? Instamapper gaat per 13 december 2012 uit de lucht.
Instamapper is een applicatie voor in ieder geval Android en iOS waarmee je maar één ding kunt doen: je locatie bijhouden en die online weergeven. De dienst bestond (blijkbaar) zo'n 5 jaar, ik kon als oudste track terugvinden een track uit juli 2010, toen ik net wat meer begon te fietsen. De applicatie voor iOS was ontwikkeld in de tijd dat de iPhone nog geen multitasking toestond (alleen via een jailbreak was dat mogelijk) en de applicatie is nooit aangepast toen dat wel kon. Dat was enerzijds vervelend, want het betekende dat je iPhone niet meer kon doen dan tracken (en de interface was niet eens fancy met een live kaart of zo, je zag je coördinaten en wanneer de update voor het laatst verstuurd was), maar hij deed het wel altijd. En zo heb ik de app vaak gebruikt, ook tijdens lange tochten zoals de Elfstedentocht, de Ronde van het Eindhovens Dagblad en de Zuiderzee Klassieker. Ideaal om het thuisfront te laten zien waar je was, zeker als ze je onderweg wilden aanmoedigen zoals bij de Elfstedentocht. Met een extra accu en het beeldscherm van je iPhone zo zacht mogelijk kon je met de applicatie ook dit soort tochten van meer dan 200km probleemloos live tracken.
Maar nu stoppen ze er dus mee. Op het forum geeft de admin iets meer uitleg bij de redenen hiervan. En die zijn ook breder de moeite waard om te lezen.
Lees verder….