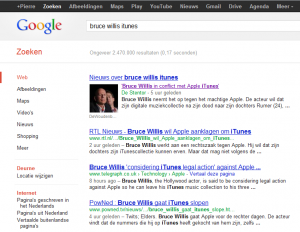 Als Google bij het intypen van "Bruce Willis" al meteen wil aanvullen met "sues Apple", dan weet je al dat er eigenlijk al meer dan genoeg over geschreven is. Ik zal even volstaan met het linken naar het bericht waar ik het vanochtend zelf las.
Heel kort samengevat: de tracks die jij via iTunes 'koopt' zijn niet van jou. Tenminste niet op een manier dat jij ze kunt doorgeven aan iemand anders. Zoals je dat met CD's, LP's of cassettebandjes wel kon. Dus kun je ze ook niet laten erven door je kinderen. En daar is Bruce het (terecht) niet mee eens.
Ik ben benieuwd of dit (weer) met een sisser afloopt. Het zou kunnen zijn dat ook Bruce Willis tot de conclusie komt dat hij hier niets aan kan veranderen. En voor de duidelijkheid: het is niet alleen Apple die zulke licentievoorwaarden heeft, in de VS geldt dit ook voor MP3's die via Amazon gekocht worden.
Ik kon bij BOL.com overigens zo snel geen licentievoorwaarden vinden voor hun elektronische boeken, maar zover ik weet geldt daar exact hetzelfde voor. 🙁
[update 21:30] OK, het blijkt helaas een onwaar gerucht te zijn. Jammer, want dat betekent waarschijnlijk dat het verhaal een heel stille dood sterft.