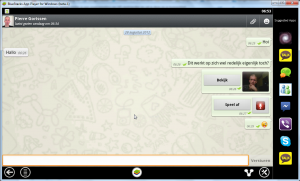 Dit bericht begon eigenlijk als een praktijktest om te zien of de instructies die hier staan in de praktijk een beetje werkten. Die instructies zijn voor het installeren van WhatApp op je PC.
Voor wie het nog niet weet: WhatApp is een berichtenapplicatie voor op je smartphone. Je kunt er tekstberichten, foto's, audioberichten, locaties en contacten mee versturen naar je contactpersonen. Een beetje dus als een uitgebreide SMS-optie die geen SMS-bundel vergt maar via je dataverbinding (WiFi of 3G) verloopt. En zoals wel vaak de reden is, ben ik de applicatie de laatste tijd een stuk meer gaan gebruiken omdat ik een aantal contacten heb die hem eveneens regelmatig gebruiken. Ik heb een heleboel contacten die een account hebben overigens, maar het aantal berichten dat ik via WhatApp krijg is (gelukkig?) nog te overzien.
Maar toch had ik zoiets van "zou het niet ook handig zijn om WhatApp op mijn PC of op mijn iPad te kunnen gebruiken?" Want standaard kan dat namelijk niet.
Lees verder….