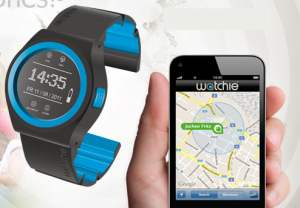 Het was niet eenvoudig om een goede titel voor dit bericht te verzinnen. GottaBeMobile, de site waar ik het bericht vond, zegt simpelweg: "Watchie GPS Locator Helps Keep Alzheimer's and Dementia Patients Safe". Maar als je dat letterlijk naar het Nederlands wilt gaan vertalen, dan hou je ook zo'n volzin over ("Watchie GPS ontvanger zorgt er voor dat Alzheimer patiënten en demente mensen veilig blijven" of zo).
Maar goed, het beschrijft wel heel goed het doel van deze armband: je kunt er mensen die zelf van tijd tot tijd (of regelmatig) niet meer weten waar ze zijn of wat ze doen mee in de gaten houden. Je kunt detecteren of ze vallen en of ze buiten een bepaald ingesteld gebied komen. Confronterend, jazeker. Iets wat je alleen wilt gebruiken als het noodzakelijk is, uiteraard.

Maar, als dit het verschil maakt tussen het op zoek moeten gaan naar iemand die een huis uitgelopen is en waarvan niemand (inclusief de persoon zelf) meer weet waar hij of zij is, of het op tijd gewaarschuwd worden dat dat gebeurt, dan is de keuze een stuk gemakkelijker.
Het is nu nog vaporware "coming soon" staat er op de site. Het zou in 145 landen moeten werken, maar ik kon er geen lijstje vinden, dus geen idee of Nederland daar ook tussen zit. En het zou betaalbaar moeten zijn. Maar dat kan natuurlijk een relatief begrip zijn.
Hoe dan ook, ik vond het zo'n apparaat dat er gewoon moet zijn voor een betaalbaar bedrag. Want daar waar technologie de kwaliteit van het leven van mensen kan verbeteren ben ik er voorstander van.