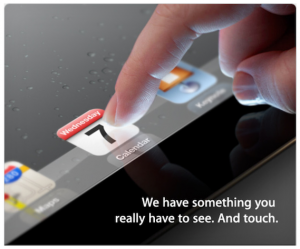 Het was een mooie vraag/mail op een mooi moment. Patrice Plet mailde me een tip die eigenlijk ook een beetje een vraag was:
Jij zit (net als iedereen) te wachten op de iPad 3. Maar ik schat je toch meer in dat je van de vrijheid en tweakbaarheid van Android houdt.
Zeker omdat je eigenlijk op zoek bent naar een volledige vervanger van Office apps, liefst in een tablet. Er gaan trouwens ook geruchten van MS office naar de iPad komt…
Bij de mail zaten een tweetal links. De ene ging over het draaien van Ubuntu naast Android en de tweede over het dual booten van Android en Linux op de Transformer Pad.
Waarom een mooi moment? Nou, omdat ik afgelopen dinsdag een iPad 2 van mijn werkgever gekregen heb als onderdeel van het paperless gaan van onze dienst. Ik had (en was best tevreden met) een iPad 1 en was er eigenlijk vanuit gegaan dat ik de iPad 2 helemaal over zou slaan en meteen, zodra hij zou verschijnen, een iPad 3 zou bestellen. De timing van de aankondiging (nu over 6 dagen) valt wat dat betreft wat ongelukkig. Mijn gadget honger is namelijk nu nog even gestild door het feit dat de iPad 2 toch allemaal weer wat sneller werkt dan de iPad 1 (met iOS 5) deed. Dus of ik volgende week (als dat al kan vanuit Nederland) meteen op de bestel knop druk is nu nog even de vraag. Maar dat terzijde. De vraag is: iPad 3 of wat anders?
Lees verder….