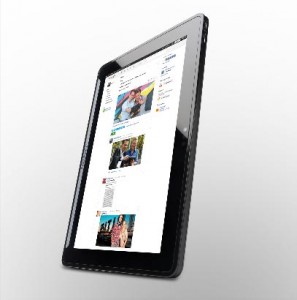 Heel vreemd is het niet dat de Aldi vanaf 10 december een betaalbare Android tablet in het assortiment heeft. Via het Medion merk verkopen ze ook laptops, pc's, monitoren en TV's. Maar de vraag is natuurlijk of je voor die €399,- die de Medion Lifetab P9514 (MD 99000) moet gaan kosten a.s.zaterdag voor de deur van de Aldi moet gaan staan. De spotgoedkope eReader die ik er ooit kocht bleek ook van een dusdanig goedkope kwaliteit dat ik hem ook weer ingeleverd heb.
Op papier ziet de Lifetab er in ieder geval niet slecht uit: Android™ 3.2, 32 GB intern geheugen, NVIDIA® Tegra™ 2 dual core processor, NVIDIA® GeForce® video, Geïntegreerde UMTS l Quadband 3G-module (HSDPA/HSUPA) en GPS, Geïntegreerde Wireless LAN 802.11 n-standaard technologie-module, Li-polymeeraccu voor tot 8 uur werktijd, 25,4 cm/10″ multitouch-display, Helderheidssensor – automatische en energiezuinige aanpassing van de displayhelderheid, Positiesensor – automatische aanpassing van de schermweergave in de hoogte en overdwars, afhankelijk van de stand van de MEDION® LIFETAB®, Bluetooth 2.1, microUSB, microSD-/microSDHC, Audio-Out, multifunctionele aansluiting, SIM-kaartslot.
Geïnstalleerd staan in ieder geval Docs to Go, Teken-pad (kon ik niet vinden in de Android Market), Printershare en LIFETAB Media (kon ik niet vinden in de Android Market).
Lees verder….