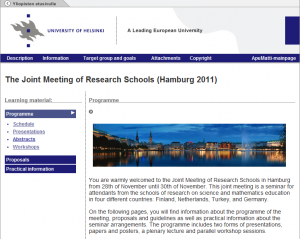 Het is tijd om mijn tas in te pakken. Vanmiddag reis ik naar Hamburg voor The Joint Meeting of Research Schools. De website wordt gehost door de Universiteit van Helsinki, een van de partners in de samenwerking tussen onderzoeksscholen uit Finland, Nederland, Turkije en Duitsland. Gedurende drie dagen zullen promovendi uit die verschillende landen papers en posters aan elkaar presenteren.
Die papers en posters zijn vooraf van review opmerkingen voorzien door collega promovendi. Zo heb ik reviews geschreven voor een promovendus uit Duitsland en een uit Finland en van die beide promovendi ook reviews ontvangen op het paper dat ik zelf ingediend heb. Tijdens de drie dagen ben ik dan weer een van de discussants (mensen die vragen stellen / in discussie gaan met de spreker) bij die twee promovendi en zij op hun beurt weer bij mij. Voertaal is Engels. Doel is uiteraard om ervaring op te doen in het schrijven van papers (of het maken van posters), je onderzoek in het Engels toe te lichten tijdens een presentatie en het met anderen daarover in discussie gaan. Maar doel is ook dat je ervaring opdoet met het reviewen van werk van anderen. Dat is namelijk ook een vaardigheid die een onderzoeker onder de knie moet hebben.
En daarnaast is het natuurlijk gewoon leuk om een paar dagen op te trekken met promovendi uit Nederland en andere landen.
Lees verder….