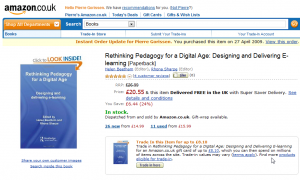 Ik kreeg een mail van Amazon.co.uk waarin ze melding maakten van het feit dat het boek "Rethinking Pedagogy for a Digital Age: Designing and Delivering E-learning" dat ik in april 2009 bij ze gekocht had, bij ze kon inruilen. Nee, niet voor een nieuw exemplaar, niet eens voor een digitale versie, maar gewoon voor cash. Even doorklikken naar de site maakte duidelijk dat Amazon me GBP 8,10 wilde betalen voor een boek waar ik zelf GBP 20,55 voor betaald had en dat voor GBP 15,99 tweedehands via hun eigen site te koop was.
Tja, je krijgt dus 40% van de aanschafprijs van je boek terug terwijl Amazon er dan nog weer eens bijna 100% winstmarge op heeft als ze hem weer verkopen (iets minder aangezien het verzenden naar Amazon ook op kosten van Amazon gaat).
Als het boek je in de kast in de weg staat is dit natuurlijk mooi meegenomen. Je hoeft geen moeite te doen om het te verkopen en vangt er toch cash voor. Alternatief is dat je het zelf via Amazon aanbiedt en er meer voor vangt.
Helaas hoef ik er nog niet heel lang over na te denken. Op de pagina met voorwaarden staat namelijk "To participate in the Programme, you must (a) be at least 18 years old, (b) ship your products only from the United Kingdom and (c) have a billing and physical address located in the United Kingdom. Products shipped from outside the United Kingdom will not be accepted or returned.".
Toch wel leuk idee.