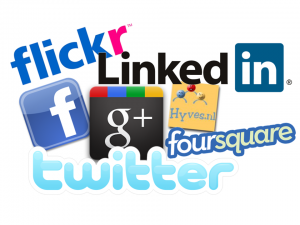 Ik heb er genoeg van!
Ik word op het moment compleet gek van de wirwar van sociale software toepassingen / sites / omgevingen. Het is gewoon niet meer bij te houden. "Vroeger" was het nog simpel. Hyves was er voor alles en iedereen privé, LinkedIn was handig als je ook een wat professioneler netwerk wilde onderhouden. Flickr was er voor je foto's, Facebook was klein genoeg in Nederland om links te laten liggen en de echt fanatiekelingen hadden een Twitter-account. Foursquare kwam er bij voor de checkins, Google Latitude kreeg hier gelukkig niet echt voet aan de grond. Google+ kwam langs en maakte afgelopen zomer een enorme groei door en ook Facebook begint steeds meer Nederlanders te trekken.
De scheiding privé en zakelijk is al lang zoek. Maar het is bijna onmogelijk om niet op alle beschikbare plekken een profiel te hebben, updates te plaatsen en updates te bekijken. Niet omdat het zo hip is, maar gewoon omdat er overal wel mensen zijn die er voor gekozen hebben alleen of voornamelijk bij een van de beschikbare platforms aanwezig te zijn. Zo heb ik familieleden die alleen Hyves gebruiken of alleen Facebook. En daar ook foto's plaatsen of updates geven van waar ze mee bezig zijn. Op Google+ heb ik 2x zo veel mensen die mij in een kring hebben toegevoegd als dat ik er zelf in kringen heb, maar de 250 mensen die me daar 'volgen' zijn maar een fractie van de 1256 volgers op Twitter. Maar niet iedereen stapt over van Twitter naar Google+, dus ook hier is het niet eenvoudig het ene platform te verlaten voor het andere. Al was het maar omdat Google+ zich nog niet gemakkelijk leent voor het plaatsen van links. Twitter-gebruikers plaatsen massaal hun tweets door naar Facebook, dus daar treedt de nodige vervuiling op van dubbele berichten. Hyves heb ik zelf al heel lang niet bijgewerkt, maar ik hou het account nog aan om te kunnen reageren bij een paar fervente hyves-gebruikers.
Lees verder….