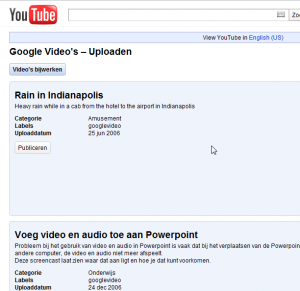 Het is weer zo'n bewijs dat je niet altijd meteen moet reageren als een bedrijf zegt "we gaan er mee stoppen, zorg er voor dat je snel je materialen veilig stelt". Of wellicht is dat nou ook weer niet zo verstandig, maar in dit geval baal ik wel dat ik afgelopen week al een aantal video's veilig gesteld heb toen Google aangaf op korte termijn (29 april) zou stoppen met Google Video's en dat je maar beter je video's een voor een kon downloaden om ze dan weer een voor een op YouTube te zetten.
Ik zal duidelijk niet de enige zijn geweest die geklaagd heeft over het feit dat het wel heel sloom was dat ik zelf, handmatig die transitie moest uitvoeren. Niet dat mijn klagen er ook maar iets aan bijgedragen heeft, maar Google heeft geluisterd naar die andere klagers. En ze hebben nu een conversie ingebouwd in Google Video's. Je kunt nu de video's aanvinken die je wilt migreren, drukt op de knop "Upload video's to YouTube" en klaar ben je.
De oorspronkelijke titel, datum, beschrijving gaan mee naar YouTube al worden ze toch gewoon naar uploaddatum in je tijdlijn gezet (de datum zie je als je de video gaat bewerken). Nog niet helemaal perfect, maar wel een stuk eenvoudiger om uit te voeren. Ik heb daarom al mijn 29 video's even in één keer overgezet. Excuus dus voor de vervuiling van mijn YouTube tijdlijn. De meest recente video komt tijdelijk uit 2006.