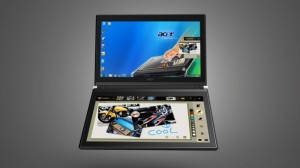 Laat ik kort zijn over mijn verwachtingen wat betreft de "Acer's Iconia-6120 dual 14-inch touchscreen laptop": Leuk, maar meer dan een paar exemplaren zullen er niet verkocht worden.
Natuurlijk, ik zou er heel graag een weekje mee willen spelen, testen, uitproberen. En ja, het is heel tof dat Acer iets heel anders probeert dan de reguliere netbooks, laptops of tablets. Maar nee, dit apparaat gaat de wereld niet veroveren. Om in Jobsiaanse termen te spreken: gewone gebruikers gaan dit apparaat niet begrijpen. En als je er dan $1.200 voor moet betalen (of zelfs €1.499 als je in Spanje woont) dan is die drempel gewoon veel te hoog.
Jammer, maar wel cool dát hij op de markt komt en niet alleen een concept op de een of andere gadget beurs blijft.
(via Engadget)