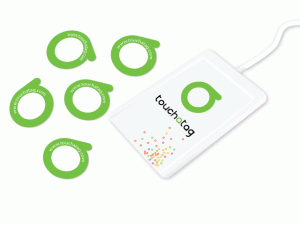 Zo zie je maar hoe dingen heel snel kunnen veranderen. RFID leefde als technologie een sluimerend bestaan. Jaren geleden gehyped, maar nog niet echt zichtbaar bij de mensen thuis. Niet dat we het niet gebruikten, maar we realiseerden ons dat eigenlijk niet zo. Met name in een aantal van de pasjes die we in onze portemonnee hadden zitten, waren we eigenlijk al lang ervaren RFID-gebruikers.
De OV-chipkaart kan de dubieuze eer claimen om RFID groot in het nieuws te brengen. De chip die op die kaart zit is gemakkelijk te kraken en via een goedkope (€30-€40) RFID-reader kon iedereen de gegevens op die kaart lezen én weer schrijven (en dus wijzigen). Gewoon een kwestie van wat software downloaden, wat geduld opbrengen tijdens het kraken van de kaart (dat hoeft maar één keer, maar kan wel een uurtje of twee duren).
De RFID-readers vliegen de winkel uit. Bij Touchatag zijn ze de startersets tijdelijk uitverkocht in Europa, een Nederlandse e-shop geeft aan per dag er zoveel te verkopen als anders in een heel jaar.
En het blijft niet bij losse apparaatjes aan je computer. Google komt met de Nexus S die een RFID reader ingebouwd heeft zitten en ook Apple lijkt plannen te hebben voor een RFID reader in de iPad of de iPhone 5.
Nou, leuk. Maar natuurlijk ook tijdelijk. Er komt een nieuwe, beter beveiligde kaart. De NS zegt nu dat ze die niet versneld gaan invoeren, maar dat lijkt me haast een onhoudbare positie gezien de kosten die fraude met de kaart met zich mee kan brengen. Maar als nu over een tijdje die kaart weer goed beveiligd is, kunnen we dan geen zinvolle legale dingen gaan doen met al die RFID readers die we ter beschikking hebben?
Lees verder….