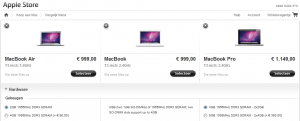 Het is mooi om te zien hoe na elke aankondiging van Apple alle gadget sites over elkaar heen vallen om een mening te hebben over de impact van de aankondiging. En vooruit, ik laat me meeslepen en besteed er ook een post aan.
Reden daarvoor is eigenlijk dat, waar de vorige MacBook Air gewoon nog als exclusieve gadget gezien werd voor een best stevige prijs, de nieuwe MacBook Air opeens de vergelijking aan moet met zoiets ordinairs als een "netbook". Je weet wel, die goedkope, kleine, lichte, vaak niet zo krachtige, draagbare dingen met toetsenbord, 9 of 10 inch scherm en Windows XP er op die we de afgelopen jaren kochten toen we nog geen iPad hadden en wel laptops die 2 to 3 kg wogen. Ik heb er heel wat berichten over geschreven.
Bij eeepc.net zijn ze er stellig in: alleen als je een echte Apple fanboy bent. Bij TheNextWeb zien ze het ook niet zitten, de iPad heeft de wens voor een MacBook Air doen vervliegen (maar ze noemen het wel een netbook). Ook bij CNET News denken ze dat ze eerder een iPad zouden meenemen dan een MacBook Air. Fons van den Berg ziet hem wel zitten, en dan met name ook in de school, als vervanger voor de gewone MacBook.
Bij GottaBeMobile noemen ze hem een stap in de richting van een toekomst waar wij en de technologie nog niet helemaal klaar voor zijn.
En het is, vind ik dan, inderdaad ook weer zo'n typische "mixed bag" van positieve en negatieve punten waar veel Apple producten om bekend staan.
Lees verder….