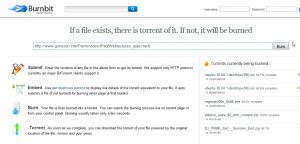 Toen ik nog wekelijks de EduKast produceerde, heb ik een tijd lang een test gedaan met het ook via Bittorrent aanbieden van de afleveringen. Niet omdat ik problemen had met de bandbreedte die verbruikt werd (die is bij Dreamhost "onbeperkt") maar omdat ik wilde zien of we met zijn allen daar al aan toe waren.
Het antwoord toen was een heel duidelijk nee. Bij keuze voor directe download of torrent ging iedereen heel begrijpelijk voor directe download. Want die was sneller.
Omdat het runnen van een tracker bij Dreamhost maar amper gedoogd werd (ze vonden het eigenlijk verdacht, maar zolang het alleen legale torrents waren dan kon het) en er op een gegeven moment wat problemen kwamen met de werking van die tracker, ben ik er mee gestopt.
Toch was ik nieuwsgierig naar Burnbit. Het is een gratis dienst die het mogelijk zou moeten maken om datgene te doen wat ik deed, zonder de noodzaak om zelf software te installeren op je server.
Als je een bestand al via het web aanbiedt, zoals bijvoorbeeld deze download van mijn verhaal over Weblectures op de iPad (MP4 12,3MB), dan kun je die op de site invoeren en dan wordt er een torrent van gemaakt.
Die torrent kun je dan ook weer aanbieden via je website: Download de torrent van Weblectures op de iPad.
Je kunt ook doorverwijzen naar de pagina over de torrent bij Burnbit.
Ziet er mooi uit. Maar het enige probleem is dat mijn Transmission client de torrent niet echt slikt. Hij wordt toegevoegd aan de lijst, maar het downloaden zelf start niet. Vraag aan jullie dus is of je zin hebt om de torrent te testen en te zien of jullie hem wél binnen weten te halen. Alvast bedankt!