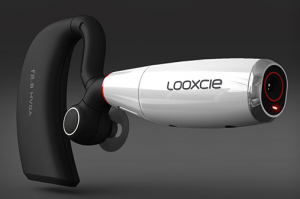 Gisteren had ik een bericht over een camera die je op een helm kunt vastmaken. Maar wat nou als je dat niet wil? High Tech spionnen op TV hebben ook nooit een helm op, die hebben de camera achter hun oor hangen. Dat ziet er veel stoerder uit.
Nou, dat kun jij nu ook doen. En voor maar $199. De Looxcie ziet er uit als een groot uitgevallen bluetooth headset. Er zit een videocamera op die aan één stuk door filmt. Intern kan er maximaal 4 uur aan video opgeslagen worden. Zijn die vol, dan wordt het begin gewoon overschreven. Het idee is dat als je iets ziet wat je de moeite waard vind om te delen met de wereld, je op het knopje op de headset drukt. Dan worden de afgelopen 30 seconden automatisch, via je smartphone, verstuurd via YouTube, Twitter en/of Facebook.
Die smartphone, nu nog alleen Android (iPhone komt er aan), kun je ook gebruiken als afstandsbediening voor de Looxcie. Je kunt er clips mee bijknippen, mailen en nieuwe opnames maken.


Helaas is de videokwaliteit zeker nog geen high definition. De camera maakt 15 beelden per seconde bij een resolutie van 480x320pixels. Als het dus niet belangrijk is om je handen vrij te hebben zou je natuurlijk ook gewoon een iPhone 4 kunnen gebruiken. Of een Android telefoon met een goede camera.
Wat denk je? Ideale liveblogging tool of overbodige gadget?
(getipt door Techcrunch)