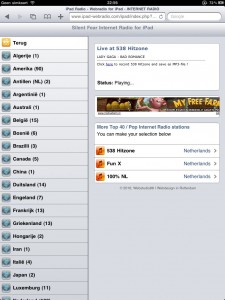 Soms krijg ik via de mail verwijzingen naar tools en sites die absoluut de moeite van het delen waard zijn. Helaas glippen er ook wel eens mailtjes tussendoor. Zo kreeg ik eind juni (!) via de mail van Peter Goedhart om eens naar http://www.silentfear.nl/ te kijken/luisteren.
En het heeft helaas erg lang geduurd voordat ik er aan toe kwam. En dat is jammer want het is een heel handige site als je muziek wilt luisteren op je iPhone / iPod Touch of iPad. De site herkent je device en voor de iPad wordt gebruik gemaakt van een scherm dat uit twee kolommen bestaat.
Als je er naar toe gaat kun je een keuze maken uit genre of land en dan kun je een van de beschikbare online radiostations selecteren.
Afspelen gebeurt meteen in Mobile Safari. Dat heeft als nadeel dat je, nadat de browser gesloten is, niet snel even de muziek op pauze kunt zetten. Maar het heeft als grote voordeel dat je ook op de iPad gewoon naar de muziek kunt luisteren terwijl je andere programma's opstart. Want Mobile Safari is een van de applicaties die ook in iPhone OS 3.2 op de achtergrond kan blijven draaien. Je zoekt dus gewoon je gewenste radiostation op en schakelt over naar een ander tabblad of naar een andere applicatie. De muziek blijft gewoon doorspelen.
Aparte feature is dat je een stuk van de uitzending kunt laten opnemen als MP3 en die dan naar je kunt laten mailen. Dat stuk kan minimaal 5 minuten en maximaal 50 minuten lang zijn. Ik heb zojuist een stuk van 50 minuten aangevraagd en zal deze post bijwerken met info over de omvang en kwaliteit ervan zodra ik hem ontvang.
Deze lijkt me zeker een link op het beginscherm van je iDevice waard.