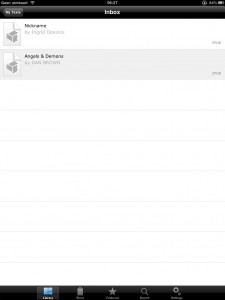 Tot voor kort kende ik geen enkele manier om boeken die je bijvoorbeeld bij BOL.com, Bruna.nl of ebook.nl in Nederland koopt op je iPhone of iPad te lezen. iBooks en Stanza ondersteunen de Adobe DRM die daar op toegepast wordt namelijk niet.
Voor mezelf was dat niet echt een probleem. Ik gaf er toch al de voorkeur aan om na aanschaf de DRM te verwijderen zodat ik ze er wél gewoon op kon lezen (en indien gewenst na conversie op mijn Kindle DX).
Via een tweet van Justine van den Berg, die aan het proberen was een bij bol.com gekocht boek op haar iPad te lezen, kwam ik bij dit bericht op ereaders.nl van afgelopen augustus (tijdens mijn vakantie). Daar wordt verwezen naar Txtr, een gratis eReader applicatie voor de iPhone, iPod Touch en de iPad, die wél ondersteuning heeft voor Adobe DRM.
Bijkomend voordeel is dan nog dat je geen gebruik hoeft te maken van iTunes om de boeken op je iTouch te krijgen. Je kunt ze direct vanaf je laptop uploaden naar de site of via e-mail naar de inbox van je account sturen.
Op de Txtr-website maak je eerst een account aan zodat je boeken kunt uploaden (je krijgt dan ook een eigen mailadres waar je boeken naar kunt mailen). Op je iTouch installeer je de applicatie en voer je je accountgegevens in én je Apple ID (dat je ook gebruikt in Adobe Digital Editions).
Via Library > Archive kom je dan bij de Inbox, daar kun je de boeken die je geüpload hebt of via mail verstuurd hebt downloaden naar je apparaat.
Het werkt en is voor nu nog gratis. Onduidelijk is of dat zo gaat blijven. De eReader applicatie zelf is op het moment nogal basaal. Je kunt kiezen uit 2 lettergroottes en het ombladeren gaat niet zoals bij anderen met een mooi blader effect. Mogelijkheden om aantekeningen en bookmarks te maken ontbreken.
Maar zoals gezegd, het werkt.