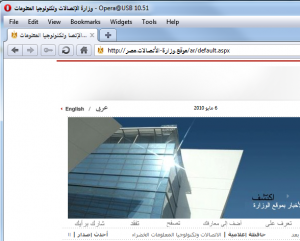 The Next Web maakt melding van een historische dag op het internet vandaag. Voor het eerst zijn er namelijk ook drie top-level domein namen (dat zijn de letters achter de laatste punt, dus bijvoorbeeld .com, .edu, .nl, .be, .org) live gegaan die niet Latijnse letters bevatten. Het zijn: Egypte (مصر), Saudi Arabië (السعودية) en de Verenigde Arabische Emiraten (امارات).
Een belangrijke mijlpaal voor het internet, maar eentje die voor de nodige problemen zorgt. Op The Next Web staat een voorbeeld van een link naar een website uit Egypte die al van de nieuwe notatie gebruik maakt. Het is de website van het Ministerie van Communicatie en Informatietechnologie. Die URL ziet er zo uit: وزارة-الأتصالات.مصر
Afhankelijk van de browser waarmee je dit bericht bekijkt en de link uitprobeert zullen/kunnen er een aantal dingen gebeuren:
Opera 10.5 laat als enige de URL op de juiste manier in de adresbalk zien en laat de pagina van het Ministerie zien (zie de schermafdruk hierboven).
Chrome 5 laat de URL niet juist zien in de adresbalk (zie de schermafdruk hieronder) maar laat de pagina juist zien. Heel mooi bij Chrome 5 is dan dat je meteen aangeboden krijgt om de pagina te vertalen. Dat vertalen vindt dan plaats in dezelfde layout/opmaak van de pagina. Niet perfect Nederlands, maar voldoende om enigszins de weg te vinden op de site.
Firefox 3.6, Safari 4 en Internet Explorer 8 bakten er niks van bij mijn eerste test. Ze konden de URL niet verwerken tot een site. Firefox deed in de adresbalk nog een poging maar het lukte niet om de pagina te vinden (zie de schermafbeeldingen hieronder).
[update 19:03] Naar aanleiding van de reactie van Raymond heb ik de tests zojuist nogmaals uitgevoerd. De resultaten waren nogal verrassend.