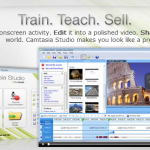 Het duurt nog een paar dagen, maar aan het einde van deze maand komt Techsmith met versie 7 van haar Camtasia Studio screencasting software. Op het Visual Lounge weblog vind je al een paar dagen korte screencasts met nieuwe/gewijzigde functionaliteit in deze versie. En het ziet er naar uit dat het zeker een upgrade waard gaat worden. Dit zijn de vier filmpjes die tot nu toe online staan (maar er komt er dus elke dag eentje bij):
* Uitgebreidere callout opties
* Achteraf wijzigen van de gebruikte cursorreffecten
* Eenvoudig weergeven van gebruikte toetscombinaties
* Directe upload naar YouTube ook in High Definition formaat
Het direct naar YouTube kunnen uploaden in High Definition scheelt een stap, nu exporteerde ik de screencast eerst naar de lokale schijf in het juiste HD formaat en voegde hem dan pas aan YouTube toe. Toetscombinaties gebruik ik zo weinig mogelijk of ik vertel in woorden wat ik dan doe, maar het snel kunnen laten zien van die combinatie in de video is handig. Ik heb al een paar keer gehad dat ik een opname opnieuw kon maken omdat ik van een vorige opname de verkeerde cursorinstellingen had overgehouden. Dan had ik het opnemen van de cursor bijvoorbeeld op uit staan terwijl dat nu wel nodig/handig was. Dat kun je nu nog tijdens het bewerken (voor delen van de opname) aanpassen.
In de filmpjes is nog geen aandacht besteedt aan de gewijzigde interface, neem haast aan dat dat nog komt. Ook de nieuwe versie zal weer een 30 dagen bruikbare, volledig functionele, proefversie bevatten, dus we zullen dan zelf kunnen uitproberen of het echt een upgrade waard is. Maar gezien onze bedrijfslicentie verwacht ik dat voor mij geld niet eens een afweging zal hoeven zijn. Mooi.