Read an eBook week 7 t/m 23 maart 2010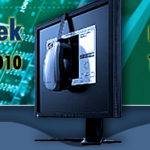 Deze week is het blijkbaar "Read an eBook week". Net als de 'gewone' boekenweek vraag ik me altijd af waarom dat één week per jaar speciaal aandacht moet krijgen. Lezen doe je immers het hele jaar door. Dat geldt wat mij betreft ook voor elektronische boeken.
Maar omdat een aantal partners van de week juist tijdens deze week speciale aanbiedingen hebben kan het toch geen kwaad om even te kijken of er iets van je gading tussen zit.
Lees dan ook zeker even dit bericht/artikel van Craig Mod getiteld "Books in de the age of the iPad". Ik vind dat hij veel te veel verwacht van een apparaat dat nog niet eens te koop is en waarvan nog maar moet blijken of het kan waar maken wat hij er van verwacht. Maar ondanks dat is het onderscheid dat hij maakt tussen boeken die de moeite waard zijn om op papier uit te geven en de rest een goede om te onthouden.