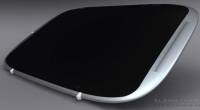 "CES 2010 is likely to see a fair few internet tablets being announced, but SlashGear has heard about one particular model that has more than a little promise. Notion Ink's as-yet unnamed Android "smartpad" is based on an unnanounced NVIDIA Tegra T20 chipset supporting 1080p Full HD video playback, has integrated WiFi, Bluetooth and UMTS/HSDPA, and – perhaps most interestingly – is the first confirmed device to use the Pixel Qi transflective display."

(bron)
Nee, de kans dat ik dit apparaat ooit ga vasthouden is heel klein. En daarom heb ik ook een hekel aan geruchten over aankondigingen. Dat is het meest vage dat er is. Na maanden speculeren over een aanstaande iTable van Apple en het lange wachten op andere reeds lang aangekondigde modellen zoals bijvoorbeeld de BeBook 2 (het is al een tijdje stil in Utrecht) of de Nook (alleen in de VS en, zo blijkt uit de reacties, nog niet helemaal klaar wat software betreft), zou ik me eigenlijk moeten beperken tot daadwerkelijke aankondigingen van apparaten die ook al te bestellen zijn.
Maar van de andere kant is het apparaat natuurlijk wel om van te watertanden. Met een gewicht van minder dan 800gram, ruime verbindingsopties (Bluetooth, WiFi, 3G, USB), een 10,1 inch scherm, ondersteuning voor 1080p Full HD video (inclusief HDMI poort), 3-megapixel autofocus camera met optie om video op te nemen, 16GB of 32GB opslag aan boord met SD-slot voor uitbreiding klinkt dit apparaat als "too good to be true".
Tel daar bij op dat het gebruik maakt van Android als besturingssysteem én dat het scherm van Pixel Qi is. Dat betekent dat het scherm kan omschakelen tussen normale LCD-modus en een modus die vergelijkbaar is met de werking van eInk schermen zoals nu aanwezig is in bijvoorbeeld de Kindle.
Het kan dan ook niet anders dan dat ofwel het systeem niet verder komt dan een aankondiging (omdat het nog niet fabriceerbaar is) ofwel dat het systeem een belachelijk prijsniveau heeft.
Want als dit écht voor onder de 400 dollar te koop wordt aangeboden, dan bestel ik er meteen eentje. Maar zoals gezegd, ik verwacht dat ik dit bericht over een jaar terug lees en dan zal moeten constateren dat het te mooi was om waar te zijn.