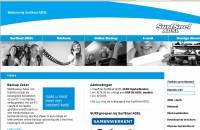 Dit bericht had veel titels kunnen hebben. Zo had het kunnen heten "Blijf weg bij InterNLNet/SurfSnel ADSL!" of "Klantvriendelijkheid servicedesks blijft probleem" of "Overstappen ADSL provider nog steeds vele te duur en moeizaam!".
Het probleem
Als je me via Twitter volgt dan heb je kunnen lezen dat mijn ADSL-verbinding thuis er bijna een dag uit gelegen heeft. Niet de moeite waard om over te praten als je het afzet tegen een mensenleven, maar erg vervelend als je van plan was het nodige werk te verzetten (en daar moet ik 9 van de 10 keer ook online voor kunnen).
InterNLNet/SurfSnel ADSL
Mijn ADSL-provider is InterNLNet, zij leveren SurfSnel ADSL. Twee jaar geleden, toen ik er naar toe overstapte vanuit Tele2 was hun aanbod (12Mbit upload/1Mbit download voor 27,95 euro per maand) aantrekkelijk én ik verwachtte voordeel te kunnen hebben van het feit dat multicast mogelijk was. Indertijd was High Definition op de televisie nog een moeizaam experiment en SURFnet leek via internet dat beter te kunnen doen.
Ook had ik de optie om meerdere 'echte' IP-adressen te gebruiken in plaats van NAT.
Helaas, multicast bleek niet samen te werken met NAT en om de meerder IP-adressen te kunnen gebruiken moest ik het modem in bridge modus zetten en dan werkte de VOIP-funtionaliteit van het modem niet.
Dus gebruik ik al twee jaar NAT en VOIP zonder problemen en gezien de ontwikkelingen (of eigenlijk gebrek daar aan) mis ik multicast ook niet echt.
Goed, voldoende redenen dus om er naar toe over te stappen. Maar, er zijn inmiddels ook voldoende redenen om er heel snel weg te willen.
Ten eerste zijn andere aanbieders een flink stuk in prijs gezakt. Tele2 was indertijd vergelijkbaar in prijs, maar biedt nu maximaal 20Mbit/seconde voor bijna 10 euro per maand minder.
Inderdaad, zij doen dat standaard met 1 IP-adres en dus de noodzaak van NAT, maar zoals ik beschrijf is dat geen probleem. Lees verder….