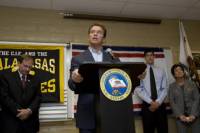 (
bron
)
Er kwamen niet minder dan 5 berichten voorbij op Technoloy Questions.com (#1, #2, #3, #4, #5) over de persconferentie die afgelopen maandag in Californië gegeven werd. Dus ik kon er niet echt omheen lezen. De berichten waren allemaal korte stukjes van dezelfde persconferentie die ook integraal online staat (tekst en video).
Kort samengevat: de staat Californië introduceert met ingang van herfst 2009 (komend schooljaar dus) gratis digitale lesboeken voor leerlingen op High Schools (voortgezet onderwijs) in de staat.
Het gaat daarbij om lesboeken die downloadbaar zijn en de omvang hebben van een 'full course of study '. Volgens dit officiële bericht gaat het om 'standards-aligned, open-source digital textbooks'
Er wordt niets gezegd over het gebruik van eBook readers of het gebruik van multimedia. In de serie toespraken wordt ook gesproken over "flex books" in plaats van text books omdat ze zo flexibel zouden zijn.
Maar veel is nog onduidelijk voor iets dat komend schooljaar al beschikbaar moet zijn. De toespraken staan bol van de positieve politieke uitspraken, maar ik denk dat er achter de schermen nog heel erg hard gewerkt moet gaan worden.
Als het lukt, dan petje af. Als er door Californië ook daadwerkelijk genoeg geld beschikbaar gesteld wordt om het kans van slagen te geven, dan helemaal.
Een initiatief om in de gaten te houden dus.