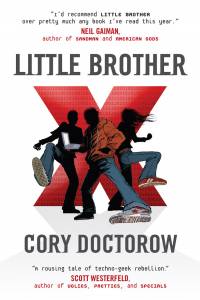 Een paar weken geleden verwees ik al naar het boek Little Brother van Cory Doctorow.
De eBook-versie daarvan is gratis van deze site te downloaden. Ik heb hem in één ruk uitgelezen (ok, verdeeld over een paar dagen) op mijn BeBook reader. Het is een spannend boek, fictie, maar met een belangrijke en op dit moment zeer relevante boodschap.
Het einde van het boek bevat een aantal verwijzingen naar andere boeken (o.a van Neal Stephenson) die de auteur het lezen waard vind en ik ging uiteraard meteen op zoek.
Helaas, ook hier weer het bekende verhaal: de eBooks zijn even duur of nauwelijks goedkoper dan de versie op papier. Ik heb ze uiteindelijk wel besteld, op papier via Amazon.de


Een reden temeer dus om het voor Little Brother zelf anders te doen. Ik heb de eBook versie gratis gekregen en gelezen. Ik hoef de versie op papier helemaal niet.
Maar de auteur heeft wel een pagina opgezet waarbij mensen uit het onderwijs kunnen aangeven dat ze in aanmerking willen komen voor een exemplaar van het boek op papier. En dus is mijn Amazon.com bestelling alsnog geplaatst en gaat er een exemplaar van het boek naar de Seattle Girls' School (in Seattle).
Ik weet niet helemaal zeker of dit nou het in stand houden is van iets wat ik helemaal niet mee in stand zou moeten willen houden (boeken op papier), maar waar ik kan steun ik mensen die zoals Cory Doctorow op een positieve manier aan verandering van oude businessmodellen werken.
En dat kan ook door er nog maar eens extra reclame voor te maken, want zoals Cory zelf ook in zijn boek aanhaalt: Obscurity is a far greater threat to authors and creative artists than piracy (Tim O'Reilly 2002).