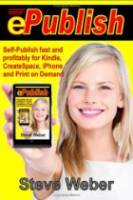 Ik weet dat ik de laatste tijd erg veel over eBooks schrijf, gaat vast wel weer over, maar ik wilde je deze tip niet onthouden.
Steve Weber heeft een aantal boeken geschreven die niet alleen via Amazon.com te koop zijn, maar ook te downloaden via Smashwords.com. Ik heb
ePublish: Self-Publish Fast and Profitably for Kindle, iPhone, CreateSpace and Print on Demand gelezen en kan het iedereen aanraden die er over denkt om zelf een boek uit te geven.
Het is geen technisch boek maar beschrijft waar je aan moet denken als je zelf een boek uitgeeft en hoe je optimaal gebruik kunt maken van de verschillende mogelijkheden om je potentiële lezers/kopers te bereiken.
Er ligt relatief veel nadruk op het gebruik van Amazon, niet zo vreemd natuurlijk gezien het marktaandeel. De laatste stukken zijn wat meer specifiek voor de situatie in de VS, maar dat stoort niet echt. En je hoeft zeker geen Kindle of iPhone te hebben.
Het boek beperkt zich ook niet uitsluitend tot eBooks, maar legt de relatie met pBooks (boeken op papier). De auteur legt uit dat het niet of/of is, maar dat het best en/en kan zijn. Ook het eBook zelf is ook als pBook te koop via Amazon.com. Daarbij gaat hij er vanuit dat downloaders/kopers van de eBook-versie vaak ook een exemplaar op papier kopen.
Ik moet bekennen dat dat voor mij in dit geval niet geldt. Ik vond het boek zeer het lezen waard, maar de toch wat slordige opmaak en uitstraling van de eBook-versie kon me niet verleiden tot het uitgeven van $9,99 voor de versie op papier.
Dat heb ik bij andere boeken overigens wel gedaan, wellicht komt het omdat dit er wat 'goedkoper' uitziet. Maar, ik heb in ieder geval wel even een review toegevoegd bij Amazon.
Andere boeken van Steve Weber zijn:
* Plug Your Book! Online Book Marketing for Authors, Book Publicity through Social Networking (als pBook)
* eBay 101: Selling on eBay For Part- or Full-time Income, Beginner to Powerseller in 90 Days (als pBook)
[disclaimer: ik krijg er niet(s) voor betaald als je de boeken koopt, de downloads zijn overigens helemaal gratis]