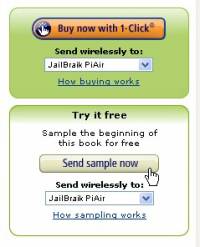 Het viel me vandaag opeens op toen ik bij Amazon.com voorbij kwam. De tekst "Send wireslessly to: JailBraik PiAir" stond er bij een pagina van een boek dat ook voor de Kindle beschikbaar is.
Ik heb zelf geen Kindle, maar ik had, via de Amerikaanse Apple Store wél de gratis eBook reader van Amazon op mijn iPod Touch (die inderdaad "JailBraik PiAir" heet) geïnstalleerd. En binnen die applicatie had ik ingelogd met mijn Amazon.com account.
De applicatie had zichzelf daarbij dus bekend gemaakt bij Amazon.com zodat (als ik een Kindle gehad had) Amazon er voor kon zorgen dat alle boeken die ik voor de Kindle koop ook beschikbaar zijn op de iPod Touch (inclusief de informatie over de pagina waar ik gebleven was).
Helaas wordt ook hier een check op land van herkomst toegepast, dus kopen van een eBook lukte me niet met mijn credit card.
Wel was ik in staat om gebruik te maken van de optie om een inkijkexemplaar te laten versturen naar mijn iPod Touch. Dat is een exemplaar met voldoende omvang om te bepalen of je het eBook zou willen kopen. Zeker gezien het feit dat de Amazon eBooks maar $9,99 kosten is dat meer dan genoeg om je keuze te bepalen.
Een aanpak waar andere eBook verkopers een voorbeeld aan zouden kunnen nemen.
p.s. voor de duidelijkheid: ik weet dat het niet JailBraik maar Jailbreak moet zijn, maar aangezien het maar gewoon de "naam" van mijn iPod Touch is leek me dat niet zo belangrijk om aan te passen.
p.s. #2 Mijn opties hier in Nederland zijn: $19,40 betalen, GPB16,99 betalen of als audioversie downloaden voor 0 euro.