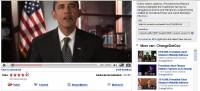 Hoewel YouTube afgelopen week nog de clip met zijn optreden bij The Colbert Report verwijderde is Lawrence Lessig toch weer enthousiast over YouTube.
Bij deze video van President-Elect Obama is namelijk links onder de video een "Click to download" optie te vinden.
Niet dat downloaden tot nu toe niet mogelijk of eenvoudig was. Ik gebruik zelf een Greasemonkey script in Firefox dat automatisch een "Download as MP4" link laat zien bij elke video die ik op YouTube bekijk. Maar het is aardige beleidswijziging.
Prettig is overigens ook dat de "in HD bekijken" optie nu ook voor de Nederlandse taalinstelling beschikbaar gekomen is. Als je daar op klikt wordt de video over de hele breedte weergegeven.
Eigenlijk wel een beetje balen dat YouTube zulke stappen de goede richting op blijft zetten. Worden we er allemaal toch weer steeds een beetje meer afhankelijk van.