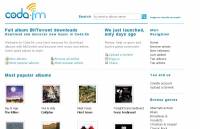 Coda.fm is een site die ik op een andere website (ben de link even kwijt) omschreven zag als "een roze olifant met grote ogen en een gigantische schietschijf voor de RIAA er op". En ik kan me daar wel wat bij voorstellen.
De site bevat verwijzingen naar torrents van muziekalbums. Nou zitten er heel veel artiesten tussen die ik niet ken, maar van die wat ik wel kan kan ik afleiden dat het hier niet om podcast safe muziek, muziek uit het publieke domein of met een creative commons licentie of zo gaat. Afgaande op de 'copyright notice' waarin gesteld wordt "The torrent (metadata) files that we host do not contain data that might be copyrighted in any way. No copyrighted and/or illegal material are hosted by us. It is therefore not possible to hold the people behind Coda.fm responsible for the material that is being spread using this service." neem ik ook aan dat de site geen licentie heeft voor het op deze manier verspreiden van muziek. Ze claimen dat ze geen muziek verspreiden, maar 'metadata bestanden'.

Goed, de site zal wel niet zo heel lang in de lucht blijven, maar dat deden de server van Microsoft ook niet toen ze de bèta van Windows 7 (in een eerste poging) beschikbaar stelden. De servers konden het gewoon niet aan.
De bèta was een paar dagen eerder al uitgelekt en via Bittorrent verspreid. De reactie daarop waren positief en dat en het feit dat Microsoft in eerste instantie had aangegeven dat alleen de eerste 2,5 miljoen downloaders een licentiesleutel (geldig tot augustus 2009) zouden kunnen krijgen zorgde voor een te grote toeloop van downloaders. De download is 2,43GB groot dus dat is wel een aanslag op een serverpark.
Intussen was de bèta via bittorrent nog prima te downloaden, want daar geldt juist hoe meer downloaders hoe beter. Ik haalde de maximale downloadsnelheid van mijn ADSL-verbinding: 1 MB/sec (dat is Megabyte per seconde) tijdens het downloaden.
Een dag later probeerde Microsoft het opnieuw en toen slaagde ik er ook via die weg in om het bestand te downloaden. De server is echter op dit moment weer onbereikbaar. Microsoft heeft intussen besloten om de limiet van 2,5 miljoen downloads los te laten en mensen wat ruimer de tijd te geven om de bèta te downloaden. Maar ik vraag me af hoe lang bedrijven deze manier van verspreiden van content nog in het illegale kunnen blijven drukken en kunnen blijven negeren voor serieus werk.