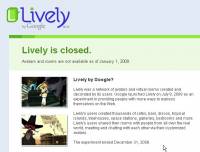 "Lively by Google? Lively was a network of avatars and virtual rooms created and decorated by its users. Google launched Lively on July 8, 2008 as an experiment in providing people with more ways to express themselves on the Web.
Lively's users created thousands of cafes, bars, discos, tropical islands, treehouses, space stations, galleries, bedrooms and more. Lively's users shared their rooms with people from all over the real world, meeting and chatting with each other via their customized avatars.
The experiment ended December 31, 2008."

(bron)
Ik moet bekennen dat ik het al weer vergeten was, maar via een tweet van Vicki Davis kreeg ik het seintje dat Lively van Google al weer gesloten is. Duurde nog geen half jaar van opening tot sluiting. Niet alles wat Google aanraakt verandert in een succesvol product. Gelukkig voor Google wel vaak genoeg.
Ik ben er denk ik twee keer geweest, maar er waren ook mensen die er meer tijd in gestoken hebben en er met hun studenten aan de slag gegaan waren. Zij waren logischerwijs niet zo blij dat Google besloot de zaak al weer zo snel te sluiten. Je kunt hier meer lezen over hun protest dat helaas voor hen dus geen effect gehad heeft.