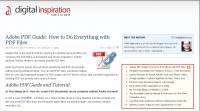 "Here you'll learn how to do just about everything with PDF documents without buying Adobe Acrobat. You can edit PDF files, combine multiple files as one, add signature images to PDF pages, fill PDF forms online, add clickable hyperlinks to existing PDF documents and so much more."

(bron)
Wow, dat is nog eens een pagina met tips! Ik moet bekennen dat ik niet alle tips op deze pagina uitgeprobeerd heb. De eerste had ik niet nodig, want een gratis virtuele printer voor PDF is zo ongeveer het eerste wat ik op een laptop/netbook installeer. Dus die had ik al.
Ik heb wel PrimoPDF uitgeprobeerd. Daarmee kreeg ik inderdaad binnen een minuut of zo een PDF bestand met de inhoud van de webpagina in mijn mailbox. Nog geen idee of ik nou dagelijks een bericht met 'interessante' aanbiedingen krijgen. Nou ja, zullen we wel zien.
Het resultaat dat ik terug kreeg liet wel zien dat je soms toch nog een beetje handmatig aanpaswerk wilt toepassen als je een pagina zoals deze gaat printen.
Want al die reclame heb ik toch niets aan als het eenmaal een PDF is. Heeft ook de auteur van het bericht niets aan, dus voel ik me ook niet bezwaard om die te verwijderen (voor mijn eigen kopie die ik dan uiteraard niet ga verspreiden!).
Het is al wat laat op de avond voor een screencast daarover, die hou je nog te goed.