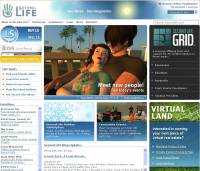 "A client computer program provides instructions for a processor to locate and retrieve rich media and HTML files over a network, such as the internet, an internet or an LAN, for running in a three-dimensional (3D) graphical user interface. The program provides instructions for the processor to generate a 3D graphical user interface on a display. Then, the processor generates a metaphorical user object for navigating and interacting in the three dimensions within the environment via navigational and interactional inputs, respectively, from a user. The processor also integrates an HTML object into the environment, and interacts the user object with the HTML object in response to an interactional input from the user."

(bron)
De VS blijft zichzelf belachelijk maken met het verstrekken van onzinnige patenten. Of je zou het ook positief kunnen formuleren: de VS blijft er voor zorgen dat er voldoende heel duidelijke voorbeelden beschikbaar zijn die laten zien dat patenten verlenen op globale concepten voor software-toepassingen een heel slecht idee is.
Het patent dat in het bezit is van Worlds.com is voor 3D omgevingen vergelijkbaar met het verlenen van een patent op het World Wide Web als het om 2D omgevingen gaat.
Het gaat dus niet om een innovatief mechanisme om skins of avatars te renderen, of zelfs maar om de technologie die de viewer of server van zo'n wereld laat functioneren. Dat zouden voorbeelden van componenten zijn waarvan ik me nog kan voorstellen dat je er patent op krijgt. Maar dit is simpelweg te ruim en te generiek.
Het patent is overigens niet nieuw, het is al in 2004 aangevraagd. Het bedrijf gaat nu in eerste instantie achter NCSoft uit Zuid Korea aan. Belangrijke zaak omdat bij toekenning ook andere virtuele werelden onder vuur zullen komen te liggen.
Gelukkig is dat een zorg voor volgend jaar.