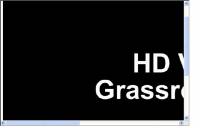 Het leek een heel eenvoudige vraag, maar bleek er eentje die heel veel tijd vergde om tot een workaround te komen, dus daarom zet ik hem hier even neer: Is er een manier om een High Definition videobestand dat op SURFmedia.nl staat te embedden in een webpagina?
Ik heb een korte videoclip gemaakt in WMV formaat met een resolutie van 1280×720 pixels. Die video heb ik geüpload naar SURFmedia.nl, je kunt hem hier vinden.
Ik heb in deze pagina drie opties bij elkaar gezet die allemaal niet werken.
#3 De onderste poging op de pagina is het gebruik van een iframe, zover ik weer de optie die SURFnet zelf adviseert. Maar bij een iframe wordt de video op 'echte' afmeting getoond en dat past natuurlijk nooit bij een embed. Hier op het blog heb ik maximaal zo'n 500 pixels in de breedte ter beschikking in een bericht.
#2 Een andere optie die ik uitgeprobeerd heb, is het gebruik van de Flash preview. Helaas is die bij SURFmedia.nl echter van lage kwaliteit én niet in de juiste beeldverhoudingen. Daardoor krijg ik een erg smal hoofd.
Ter vergelijking: Bij gebruik van YouTube werkt dat prima, in de juiste beeldverhoudingen én op hoge kwaliteit. Bekijk de video daar maar eens schermvullend. Strak beeld. En als je de unieke code van de video op deze pagina invult krijg je de embed tag ook voor deze beeldverhouding en hoge kwaliteit voor de gewenste breedte.
#1 Een optie die zeker niet optimaal is, maar tot nu toe de best werkende workaround is, is het gebruiken van de code die achter de 'player' knop van SURFmedia.nl zit om zelf een nieuwe embed tag te genereren. Dat is de bovenste poging.


Je kunt de code ook in de bron van de voorbeeldpagina zien.
Waarom niet ideaal? Nou, omdat de video nog steeds op volledig formaat naar je toegestuurd wordt, maar gewoon kleiner wordt weergegeven. Daarom kan het zijn dat je hem ook helemaal niet goed kunt bekijken omdat het bij mij een stream van 5Mbit/sec oplevert.
Ik blijf me afvragen of er gewoon iets is wat ik over het hoofd zie, of is het gewoon niet de bedoeling dat ik zulke video embed in een pagina?
Maar dit voorbeeld van embedden van de YouTube versie laat zien dat het toch zeker zinvol kan zijn.