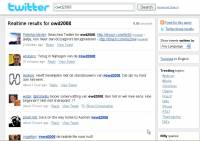 Nou nou, twee dagen SURF Onderwijsdagen en nog geen enkele inhoudelijke post erover hier op het weblog. Dat is wel eens anders geweest. Maar het zou een vergissing zijn als je daaruit concludeert dat het geen bruisende twee dagen geweest zijn. In tegendeel.
Maar het meeste vuurwerk wat betreft online rapportage over de Onderwijsdagen vond wat mij betreft online via Twitter plaats. Ik heb zojuist even een zoekopdracht gemaakt op de tag die we afgesproken hadden en kwam, als ik tot een dag of 5 terug kijk, tot 61 pagina's (bijna 1.000 tweets) resultaten.
Ik heb geen poging gedaan om te tellen hoeveel verschillende mensen nou tijdens deze twee dagen tweets hebben zitten versturen tijdens de verschillende sessies en keynotes, maar het was een indrukwekkend aantal.
Natuurlijk, je kunt het helemaal stuk relativeren. Als percentage van het aantal deelnemers was het niet enorm. Een paar procent.
Maar vergeleken met vijf jaar geleden, toen we mensen probeerden uit te leggen wat "Bloggen" of een "Wiki" was, vind ik dit toch wel heel anders. Ik bedoel, dit is het onderwijs. Wij zijn niet altijd zo heel snel met dit soort dingen.
En het aantal Twitter gebruikers was groot genoeg om een constante stroom tweets te veroorzaken. En dat was mooi.
Of zoals ik de afgelopen twee dagen wel eens vaker gezegd heb: ik vind het niet erg om gek te zijn, maar het is wel fijn als er meer mensen ook gek zijn, is niet zo eenzaam.
Ik heb genoten.