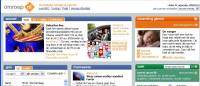 Ik ben absoluut een voorstander van downloadbare video. Maar dit is er eentje waar ik echt niet van weet of er belangstelling voor zal blijken te zijn: het journaal van 20:00 uur als MP4-bestanden via RSS beschikbaar voor op je iPod.
Ik moet bekennen dat ik het 8 uur journaal toch al niet vaak meer zie. Ik zit niet vaak precies om 8 uur 's avonds voor de TV en ook via uitzending gemist zal ik hem dan niet snel meer opvragen. Immers, twee uurtjes later is er al weer een journaal en de dag erna is het al helemaal oud nieuws.
Maar…ik neem aan dat de NOS hier over nagedacht heeft en dat er vraag naar is. Dus aan jou de vraag: ga jij hier gebruik van maken? Zo ja pik dan even deze RSS-feed op voor in iTunes of Miro en/of laat even wat weten in de reacties hieronder!