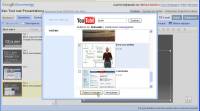 Google blijft aan de weg timmeren als het gaat om het uitbreiden van de functionaliteit van haar Google Docs suite.
En of je het nou als concurrent zie voor Microsoft Office of niet, het wordt meer en meer een omgeving waar je heel goed online onderwijsmateriaal kunt ontwikkelen. Immers, een document, spreadsheet of presentatie die je er maakt staat al online in een formaat geschikt voor online gebruikt.
Ook als je dat in een elektronische leeromgeving wilt aanbieden. Dat doe je dan ofwel door er naar te linken, of zoals bij presentations door de presentatie te embedden in een webpagina.
Sinds deze week heeft Google weer een paar features toegevoegd die zeker ook voor het onderwijs interessant zijn. Lees verder….