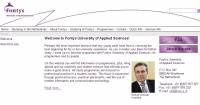 Het is een discussie die al zo lang loopt als ik me kan herinneren (is dan op zich natuurlijk nog niet zó heel lang), hoe heet een Hogeschool in het buitenland. Nee, niet High School. Het begrip College komt in de buurt, maar gezien de varianten en het feit dat je in het Nederlands ook al het begrip collége hebt op MBO-niveau gaat daar de voorkeur niet naar uit.
Tot nu toe gebruikt het Ministerie van Onderwijs, Cultuur en Wetenschappen het begrip University of Professional Education. En dat is nu aangepast in University of Applied Sciences. Fontys hoeft haar Engelstalige website niet aan te passen, daar stond dat al een tijd zo.
Zou ik nog meemaken dat we in Nederland het onderscheid tussen Universiteiten en Hogescholen net als in het Verenigd Koninkrijk, definitief opheffen? Of is dat nog steeds vloeken in de kerk?

(getipt door ScienceGuide)