"DivX has announced plans to shut down its video hosting service Stage6 on February 28th. As of this morning, the company has disabled the uploading feature, but if there's a few videos you've been meaning to watch, you've only got a few days to cross them off your list"

(bron)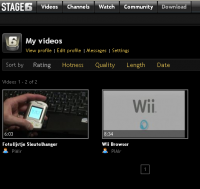 Jeetje. Ik heb er gelukkig maar 2 video's staan, dus het direct ongemak is te overzien. En natuurlijk duurt 'gratis' zo lang als dat de aanbieder het vol kan houden. Maar Stage6 was voor mij altijd zo'n voorbeeld van waar het naar toe zou gaan. Zij deden al hoge kwaliteit video voordat al die andere grote jongens (en meisjes) dat deden. Jammer.
[update] Techcrunch heeft inmiddels een vernietigende analyse online gezet.