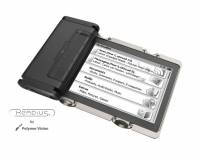 Het persbericht bij Reuters over het beschikbaar komen ergens dit jaar van de Polymer Vision Readius werd gisteren overal al opgepikt.
Waarom dat toch nog een bericht erover? Nou, eigenlijk deels om volgend jaar rond deze tijd het seintje te krijgen om te kijken of het product dit jaar écht al op de markt gekomen is. Maar ook omdat het past binnen de verschillende andere ontwikkelingen die hier voorbij gekomen zijn zoals de iLead, de Kindle en de ASUS EEE PC.
Belangrijke eigenschappen die dit apparaat mee brengt zijn de veel langere batterijduur dan de anderen tot nu toe hadden en het compacte formaat.
Ik kan me overigens niet voorstellen dat er veel mensen zijn die dit ding als telefoon zullen willen gebruiken, maar het is natuurlijk wel zo handig om er een SIM kaart in te kunnen stoppen en dan overal verbinding te kunnen hebben voor het ophalen van berichten en RSS-feeds.
Draadloos internet via Wifi ontbreekt trouwens, dus dat is voor de thuisgebruiker weer een nadeel. En net als de iLead zal ook de Readius zijn leven beginnen met een zwart/wit scherm.
Ik ben benieuwd wat de prijs gaat worden. Lukt het ze om in de buurt van die magische 300 euro te komen of gaan ze heel lomp op het prijsniveau van de iLead zitten? Het zal veel duidelijk maken over de wijze waarop en voor welke doelgroep ze het product in de markt willen zetten.