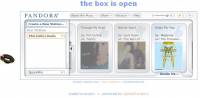 Afgelopen mei moest de online muziekdienst Pandora besluiten de toegang tot haar dienst af te sluiten voor iedereen buiten de Verenigde Staten. Bij Pandora kun/kon je een artiest ingeven en je kreeg dan streaming muziek met gelijksoortige muziek/artiesten waarbij je kon aangeven of die muziek beviel of niet etc. En het mooie was dat het gewoon meestal klopte. Ik kwam regelmatig vanuit één startpunt achtereenvolgens een aantal artiesten / CD's tegen die ik al gekocht had. Maar ook die ik nog niet gekocht had en net als bij Musicovery heeft Pandora een koppeling naar iTunes en Amazon.
Kortom hartstikke dom dat de licentieproblemen de reden waren van het afsluiten van toegang. De site controleert je IP-adres, herkent dat je waarschijnlijk in Nederland zit en laat je dan niet toe.
Er zijn een aantal opties om wél verbinding met Pandora te krijgen. Lees verder….