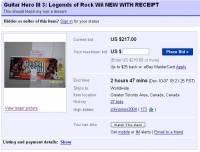 "So I spent who knows how many hours of my life trying to get 'Guitar Hero' for the Nintendo Wii for my 15 year old son who has been begging for it since he was born (well not really but he's wanted it for awhile). So after waiting in lines and going into every game store in the city over the last 2 weeks (practically being laughed at when I asked for guitar hero 3) I finally got lucky and got one at EB Games."

(bron)
Zo begon de beschrijving bij een toch wel aparte eBay veiling (let op! de veiling is op het moment afgelopen en zal dus binnenkort verdwijnen van de site).
Een vader verteld dat hij met veel moeite het spel Guitar Hero III voor zijn zoon te pakken heeft weten te krijgen als geschenk voor kerst. Maar dan betrapt hij zijn, toch al niet altijd heel lieve, zoon bij thuiskomst terwijl hij wiet aan het roken is met zijn vriendjes.
Wat doet vader (behalve op hem schelden)? Hij zet het kado in eBay en laat zijn zoon de uitdraai van de veiling zien. Het gevolg? Een hele stroom vragen en meningen van mensen via de veilingpagina. Natuurlijk, we zouden inmiddels nooit meer moeten aannemen dat dit soort dingen op internet ook daadwerkelijk echt is, maar het blijft natuurlijk lachen. Als het een hoax is, dan is het een leerzame hoax die er op zijn minst voor zorgt dat je (ik wel tenminste) gaat nadenken over de vraag of je dit zelf als mogelijke straf zou overwegen. Vooral ook omdat een aantal van de eenvoudige bedenkingen (privacy en zo) door de vader besproken worden in de reacties.
Het zotte, en ook wel verdachte, is dat het hoogste bod $9.100,01 was bij een normale aanschafprijs van $125,-
In de toelichting legt de vader ook uit dat dat iets is waar hij (en zijn zoon) rekening mee gehouden hadden, tenminste nadat het bieden uit de hand begon te lopen, omdat het een eenvoudige manier is om de veiling te saboteren.
Bij zo'n sabotage-actie wordt de prijs opgedreven met een nieuw aangemaakt eBay account en dan wordt niet betaald of gereageerd nadat de veiling gewonnen is. Maar het bod komt nu van een gebruiker die al heel wat aankopen gedaan heeft en heel wat positieve feedback heeft staan.
Het kan natuurlijk iemand zijn die met de vader en zoon onder een hoedje speelt.
Nou ja, kan me ook niet schelen. Ik zou zeggen: lees de tekst bij de veiling (lees even door de kleurtjes en lettertypes heen) en dan hoor ik graag wat jij er van vindt.